2017 Summer Camp Schedule
Stepping Stones is pleased to announce our summer programs for the summer of 2017! 
We will again be offering three-day programs meeting Tuesdays, Wednesdays and Thursdays. Our summer camps will include three different groups of children. The morning sessions (9:00-11:30) will be for children 12-36 months of age and 3 to 5  years of age by   September 2016. The afternoon sessions (12:30-3:00) will be for children entering Kindergarten through sixth grade.
Stepping Stones will once again be taking the children to the Mills Pond Pool for swimming lessons! 2017  dates and times are as follows!
We will participate  in  sessions 2 and 3, each session  lasting two weeks. Eligible swimmers must be at least 4.5 years old and entering Kindergarten in the fall. Session 2 will begin on July 10th and end July 21st, lessons are from  10:45-11:30 Monday through Friday. Session three will begin July 24th and end on August 8th, lessons are from  10:45-11:30 Monday through Friday. Stepping Stones Campers will swim in the morning and enjoy their camp in the afternoon!
Please call the center for more information. 860-693-6294
Summer Programs For ages 3-5   2017 
                                                                       Summer Program for children ages 3-5
June 27, 28, 29
th
Art in Motion: Never stop moving while we create amazing works of art…Make a running mural with our feet, experiment with tricycle painting, bike spin art, and pendulum painting. Let's GO!
July 5, 6th
Inside Out: We will take it outside this week into the warm summer sun. We will create an outdoor chalkboard, make a picnic snack, and paint on outdoor easels while telling stories under trees. Sunshine requested; no rain allowed.
July 11, 12, 13th
Eat, Read, Create: An author a day will guide us through the week as we make pasta with Tommie De Paola's kid favorite-"Strega Nona", create a magical undersea world with Leo Leonni's "Swimmy", and eat right alongside Eric Carle's "The Very Hungry Caterpillar"! Read On!
July 18, 19, 20th
Dark as Night: Don't be afraid of the dark this week. Nighttime will be fun as we play with sparkly Night Sky Play dough, go on a spooky walk, and bounce wacky light up balls… Even our painting will glow in the dark.
July 25, 26, 27th
Sorts Spectacular: Games galore will be played this week as we participate in old favorites like soccer and kick ball as well as new games like Air Ball, Cat and Mouse, and Hoop Tag. Cooperation and loads of fun will be the order of the day.
Summer Programs for ages 5-12 2017 !
SWIM IN THE MORNING AND ENJOY CAMP IN THE AFTERNOON!!!!!!
June 27, 28, 29th
Wild Wild West: Calling all cowboys and cow girls. Come on a trip to the wild, wild west this week. Join us as we pan for gold, corral a few  pigs, and even have a Hoe down! Yee Haw!
July 5, 6th,th
Secret Spy School: Calling all secret spies, we need your help this week! Join us for secret spy school as we learn to solve crimes, make spy gadgets, and take home our own spy kit; this is sure to be an adventure!
July 11, 12, 13th
Disney Adventures: Join your friends Mickey, Donald, and Goofy for a week of everything Disney! Disney games, Disney music, Disney crafts and more. What is your favorite Disney movie? Do you have a favorite Disney Princess?
July 18, 19, 20th
Jurassic World: Take a trip to the land before time as we explore the world of dinosaurs. This week we will make our own fossils, participate in a dino dig, and even create our own dinosaur egg!
July 25, 26, 27th
Zootopia: Come along on a zoo adventure this week as we make some jungle slime for a newly adopted zoo pet. Learn some amazing animal facts while you make an animal habitat of your own.
August 1, 2, 3rd
Mad Science: Are you mad about science? Join us for a week of science experiments, create monster goo, rock candy and even make your own bouncy ball! Lab coat and goggles are   a must!
August 8, 9, 10th
Hawaiian Hula: Bring your bathing suits and towels and get ready for a Hawaiian adventure. Join us as we play beach volleyball, have a water balloon toss, and even do the limbo. Towels and bathing suits are required.
August 15, 16, 17th  
Ancient Egypt: Come explore ancient Egypt this week. We will participate in a pyramid contest, an archaeological dig, and make an Egyptian mask. Do you know how to walk like an Egyptian? 
Toddler Time: 2 Day Camps for children 12-36 months of age! 
Toddler Camps run every Tuesday, Wednesday,  and Thursday mornings from 9:00-11:30!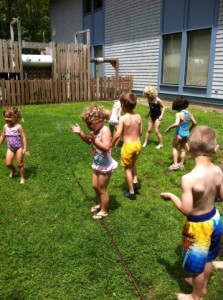 June 25th & 27th-Carnival Week.
Carnival games, treats, crafts and prizes!
July 5th  & 6th-Meet Me at The Car Wash. Be sure to bring your bathing suit for our cozy coupe car wash.
July 11th & 13th–Bubble Mania. Get ready to go on a bubble adventure.
July 18th & 20th-Fitness Week. Join us for yoga, sports, and lots of fun moving our bodies.
July 25th & 27th–Cooking Creations. Grab an apron and get ready to cook!
August 1st  & 3rd–Pirate Paradise.  Get ready for a pirate adventure!
August 8th & 10th-Pet Show.Get ready for your very own (stuffed) pet adoption!
August 15th & 17th-Color Explosion. Get ready for an explosion of color!
The cost of any three day camp is $75.00